MFJ-1786 Loop Antenna – My Stealth Antenna Installations
MFJ-1786 Loop Antenna – My Stealth Antenna Installations
I used / am using this MFJ-1786 antenna at various QTHs from a mountain top overlooking the Great Smoky Mountains National Park, to our beachfront condo 100 yards from the Gulf of Mexico to our current home in Potomac, Maryland 15 miles from the White House and Congress – and from all three locations worked a total of over 100 countries and all 50 states.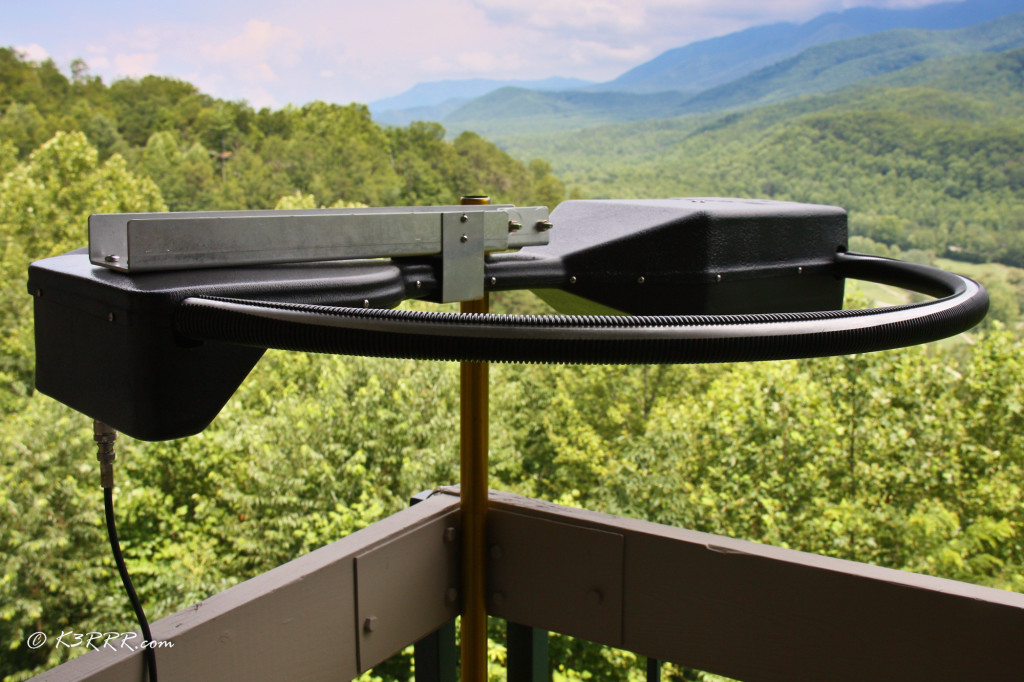 (Now that we live in a single-family home instead of a high-rise condo, I am experimenting most of the time with two longwire stealth antennas so I've lost count on the number of actual countries that I've worked with which antenna! The number of countries that I've worked with the MFJ-1786 magnetic loop antenna is well over 100 but I'm not sure by how much.)
As you can see from the below photos, I tried a variety of approaches including both horizontal and vertical mounting of the MFJ-1786 loop antenna. All three locations had / has HOA restrictions against antennas and this was some of the ways I came up with to keep a relatively low profile.
(Click on any image for the BIG picture!)
My favorite is the Bar Stool Tower Approach with Fire Pit Cover that I used on Sand Key Island in Clearwater Beach, Florida. From a distance, the MFJ-1786 looked like a patio chair with an umbrella and came with the added benefit of being rotatable with the Armstrong method.
(Click Fire Pit Cover for the Amazon link for the Classic Accessories Veranda 44-Inch Round Fire Pit Cover. You want the small – not the large – for about $22. The antenna mount that I used was the Winegard DS-2000 Universal Antenna Mount with U-bolts at Amazon for about $20. Click Mount for the Amazon link. Note: This is a very tight fit for the horizontal mounting u bolt holes of the MFJ-1786 but a very sturdy mount that is highly adjustable. ) 
These photos were from three locations with three different HOA communities overseeing everything we did. During a total of six years, so far, that I've been using this MFJ-1786 antenna, I have never received a single complaint – or even comment – from any HOA organization or from any neighbor.
Your mileage may vary!
Out of the three locations, my very best results with the MFJ-1786 were from our fourth floor beachfront condo using horizontal polarization. Being only 100 yards from the Gulf of Mexico shore may have had a lot to do with the great propagation we got from our west facing balcony location. Even though Europe and Africa were blocked by our huge high rise, I had no difficulty working those parts of the world almost daily.
The wind load from the MFJ-1786 antenna is so low that we have never had any problem with the antenna toppling over – no matter how strong the winds – including some gale force winds on Sand Key Island.
I use sandbags that are intended to stabilize large photography lamps – with each sandbag holding about 10 pounds of sand. I bought the sandbags off eBay for about $26 delivered for all four bags and got a 50 pound bag of sand from Home Depot for four dollars.
One warning for those unfamiliar with loops…even the low power manual tune ones…there is an RF hazard if you get too close and the hazard index depends on frequency as well as power levels. This is something to worry about even if the MFJ-1786 is 100′ away if it is ground mounted and where children or adults play. Bottom line: Keep a 7-10 foot distance at 100 watts.
The MFJ-1786 Magnetic Loop Antenna works surprisingly well, even when only 8′ off the ground like the current location I have here in Maryland. It will handle 100 watts and is remotely controlled in the shack via motorized control that uses the feedline for voltage.
73,
Robert
K3RRR
PS:  If you're interested in balcony operation of the loop antenna, be sure and check out this fantastic webpage: "The Balcony Mounted Magnetic Loop Antenna – A NEC Model Comparative Analysis of Physical Orientation and Performance" by Dr. Carol F. Milazzo, KP4MD
http://www.qsl.net/kp4md/balconyloop.htm
PPS:  This was the view the MFJ-1786 Mag Loop got 24/7 looking directly west from our balcony with a 170 degree panorama (click image for BIG picture):
This was the view the MFJ-1786 Mag Loop (and my ATAS-120 before I bought the loop) got 24/7 from our balcony on a mountain top overlooking the Great Smoky Mountains National Park with a 180 degree panorama (click image for BIG picture):